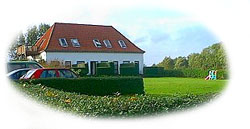 Welcome!
The island "ALS" – a dream for fishing-, diving and familyholidays
In spite of a big development on the island ALS, you can still find the countrified idyll with peace and quiet just as well-kept Nature.
Yellow corn fields, small quiet villages, never ending beech woods just as the wonderful coast sections invite you to take long relaxing walks. You can also many Museums, old churches and cromlechs from the iron age to visit.
For the angler or the diver the island is one of the best areas in this part of Denmark Either from the coast or by boat. Nearby you'll also find the adventurepark Danfoss Universe (opening may 2005), Go-cart and minigolf.
Horse on holiday ?
We can offer grass field with water and riding-ground. Rides to the beach or the wood can be arranged. Possibility for horserental if previously arranged.
Distances to other places that may be of interest
Sønderborg 17 km
Flensburg 50 km
Legoland 140 km
Givskud lionpark 145 km
The holiday village "MOMMARK"
Mommark is a small romantic coast village direct at the Baltic. Among others you will find Supermarket, restaurant, yacht- and fishing harbour with ferry connection to the island Ærø, camping sites and a nice beach.
The village is only 10 minutes (by car) away from the town Sønderborg, which has a lot to offer.
Fishing and diving
There are plenty of opportunities for Fishing and diving around the Island, not only from Boat, but also from the beach. Do not hesitate to contact us for further information about good places or references to our local partners.